At Second Plan(t) by 2Mothers & Decowraps we have a clear mission: we embrace sustainability and empower vulnerable mothers. We are a collaboration between Decowraps, pioneers in sustainable packaging for flowers, and 2Mothers, a foundation committed to empowering vulnerable mothers worldwide.
Our products are more than just pots; they are a symbol of hope, creativity and positive change. Every pot tells a story and contributes to a greater cause.
Empowering Mothers, Creating Art
Witness the skill and dedication of these talented mothers in Bangladesh as they craft beautiful handmade pots. Each pot tells a story of resilience and creativity. Their collaboration with 2Mothers is changing lives, providing income, and preserving tradition. Support their journey towards a brighter future by choosing Second Plan(t). Together, we're planting seeds of hope and growth.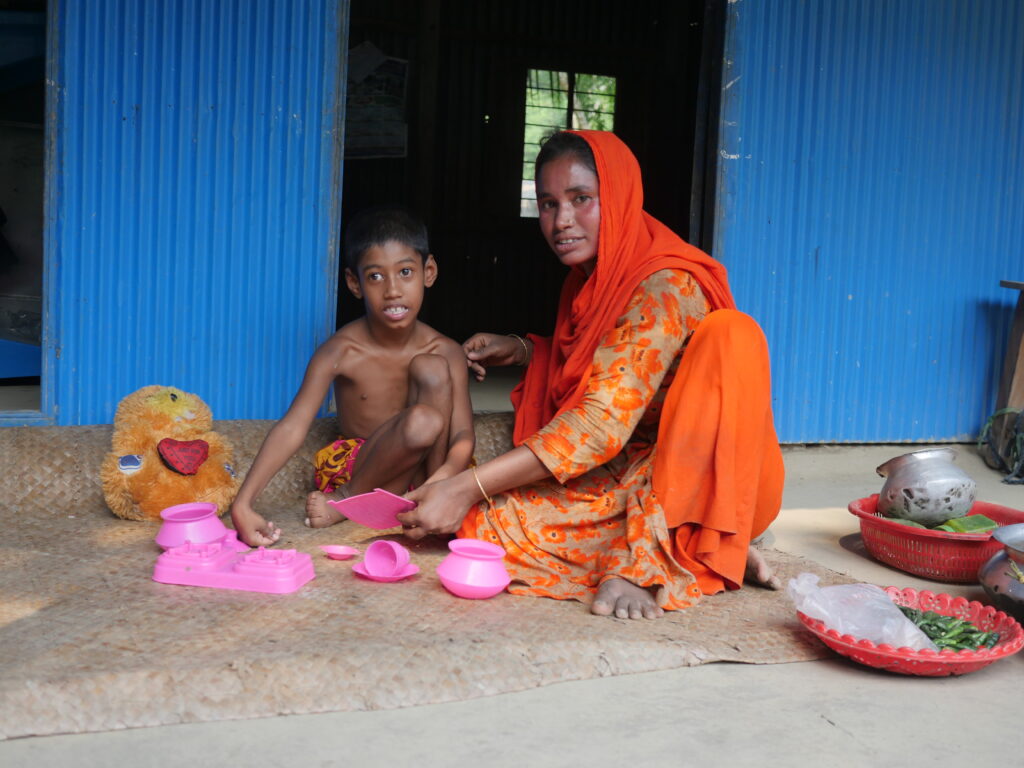 Empowering Mothers: The Stories of Bobitha Khatun and Amena Begum
In the heart of Bangladesh, the Second Plant(t) by 2 Mothers initiative is blooming with stories of transformation and empowerment. Let us take a closer look at the remarkable journeys of two inspiring mothers, Bobitha Khatun and Amena Begum, whose lives have been forever changed through their association with BanglaMa (2 Mothers).
Bobitha Khatun: Stitching Dreams of Hope
Meet Bobitha Akther, a resilient mother whose daughter Lamia Akther attends the day center in Ghior. When the COVID-19 pandemic hit, life became a challenging struggle for Bobitha and her family. However, amid those difficult times, a ray of hope emerged in the form of a sewing machine provided by BanglaMa.
With the sewing machine, Bobitha found a way to work from home and generate income, giving her family a lifeline during trying times. Grateful for this opportunity, she invested in creating a small source of livelihood – she bought chickens, geese, and even a goat. This entrepreneurial spirit enabled her to care for her family's needs and secure a brighter future for them.
Bobitha's eyes sparkle with joy when she speaks of her work with BanglaMa. She cherishes the chance to continue working with them, knowing it is a pathway to a better life for her and her loved ones.
Amena Begum: Weaving Dreams into Reality
Amena Begum's life journey has been one of resilience, strength, and determination. At just 27 years old, she is a mother of two sons, aged 13 and 4. Her childhood was marked by hardship, losing her mother at the tender age of 7 and stepping into the role of caretaker for her younger half-brother when her father remarried.
At 15, Amena got married and soon became a mother. Life was challenging, but she held onto her dreams of creating a better future for her children. The turning point in Amena's life came when she was given an opportunity to receive training in crafting jute products at Corr de Jute.
Working with BanglaMa (2 Mothers) has been a source of immense pride for Amena. As the sole earner in her family, her craftsmanship and dedication have become a lifeline. Amena's husband works as a daily wage laborer, and work opportunities are often scarce for him.
What sets Amena's heart aglow is the freedom to bring her youngest son to work. This arrangement allows her to provide for her family while being a caring and attentive mother.
Amena's dreams for the future are ambitious and full of hope. She aspires to give her sons a quality education and the tools they need to become successful individuals. Moreover, she dreams of owning a piece of land and building a home where her family can thrive.
Currently, Amena resides in a small house in Dhaka, close to the BanglaMa atelier where she weaves dreams into reality through her craft.
The Power of Empowerment
The stories of Bobitha and Amena epitomize the true essence of the Second Plant(t) by 2 Mothers initiative. By providing opportunities for vulnerable mothers like Bobitha and Amena, 2 Mothers and Decowraps have demonstrated the power of empowerment.
Every pot purchased as part of this initiative is not just a beautiful addition to your home but also a testament to solidarity and compassion. By supporting Second Plant(t), you contribute to a movement that uplifts entire communities, creating a brighter and more equitable future for all.
Let's continue to sow the seeds of change, cultivating a world where every mother's dreams are nurtured, and families bloom with hope and opportunity.
Together, we grow.
Do you have questions, suggestions or would you like to know more about our initiative? We would like to hear from you. Feel free to contact us.